Japanese delegation coming to Georgia
Tuesday, April 28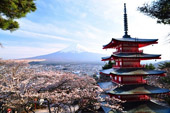 Georgia and Japan are intensifying their collaboration in the fields of trade and investment.
These two issues will be in focus during the Japanese Foreign Ministry delegationís visit to Tbilisi on May 1 and 2.
The delegation will be led by Parliamentary Deputy Minister for Foreign Affairs of Japan, Kentaro Sonoura.
During the Japanese delegationís Tbilisi meetings, parties will discuss the two countriesí cooperation in various international organisations.
Within the visit, Kentaro will receive a thank-you letter from the Georgian side for Japanís recent decision to officially change the pronunciation of Georgia from the archaic Russian term "GurujiaĒ to "JojiaĒ, based on the English pronunciation of the former Soviet republicís name.
Japan has extended foreign aid to Georgia for various economic and cultural development projects since the two countries established formal diplomatic relations in 1992.
(Agenda.ge)