Expectations for governmental reshuffle
By Messenger Staff
Tuesday, April 28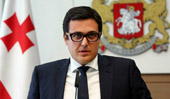 The resignation of the Minister of Infrastructure, Davit Shavliashvili, and the appointment of his deputy Nodar Jvakhishvili to the post has triggered speculations in the media concerning the possibility of additional changes to be made in the Cabinet.
Some believe that the Minister of Sport Levan Kipiani and Minister of Environment Protection Elguja Khokrishvili might also quit their positions.
In the case the ministers really do leave their posts in the 21-men Cabinet of Ministers, the issue of the trust to PM Irakli Gharibashvili's government will be raised.
If the development hits the Cabinet, the President will have to present a renewed cabinet to Parliament in the course of a week.
Political Analyst Ramaz Sakvarelidze believes that there is no need to put the Cabinet under any constitutional risk, as it will be hard for the ruling Georgian Dream coalition to gain the Parliament's confirmation since the Free Democrats party withdrew from the coalition.
The analyst also suggests that the reshuffle will be more fitted to the middle and low levels of the ministries, rather than the highest posts.
Fellow analyst Gia Khukhashvili claims that it will not be hard for the coalition to gain trust to its new Cabinet.
"The government should make solutions over reshuffles as soon as possible, as in the future receiving the trust might become harder. Now the coalition has power to achieve its goals at the legislative body," Khukhashvili says.
There are talks as well whether the alleged reshuffle might concern the PM or not.
Analyst Soso Tsiskarishvili states that the issue will be solved by one individual; the founder of the coalition, billionaire Bidzina Ivanishvili.
"It is not hard to mention that many topics are being solved by 'one citizen' rather than the acting Prime Minister," Tsiskarishvili states.