Georgia to have the first ever female defence minister in the region
By Ana Robakidze
Monday, May 4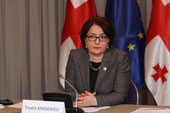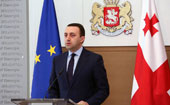 Tina Khidasheli, the first ever female to become the Defence Minister of Georgia has already taken office and even met with the Army Chief of Staff, Vakhtang Kapanadze. Reportedly the meeting took place in the Parliament building in Kutaisi. According to Khidasheli, she is the new Minister of Defence and it is natural that she wanted to meet the Army Chief of Staff to discuss the future of Georgia's defence and security.
"It was an introductory meeting for me as there are lots of activities going on in the defence area of which I am yet to be fully informed… I am confident that our main goal to become a NATO member as soon as possible is achievable, and together with Vakhtang Kapanadze we will do everything we can in order to speed up this process." Khidasheli said after the meeting, on May 1st.
According to General Kapanadze there is no doubt Khidasheli will be successful minster and her work will yield positive changes to the Georgian military.
Tina Khidasheli is a member of Republican Party. Before moving to politics and becoming a member of parliament in 2012, Khidasheli had worked in non-governmental sector for many years. She was elected in the Parliament as a majoritarian MP from the Sagarejo constituency in the Kakheti region and recently became a head of the parliamentary committee on European integration. This week parliament will begin the process to revoke Khidasheli's MP credentials.
Despite the fact that Georgian cabinet still has to receive a confidence vote from Parliament, three new ministers (Ministers of Defence, Environment and Sports) nominated by Prime Minister Gharibashvili have already started to work in their new offices. President Giorgi Margvelashvili decided to make use of his constitutional right, and so has seven days to put his signature under the list of the cabinet members before it is sent to Parliament for the vote of confidence.