A week long period before President submits reshuffled cabinet to the Parliament
By Messenger Staff
Monday, May 4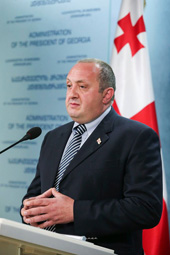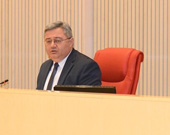 Frequent changes in the cabinet composition is not a novelty in Georgian government and even society has become used to it. The country offers its own scenario of reshuffling the cabinet;. ministers one by one resign from their posts, and seven ministers have left their post since the last confidence vote carried out by the Parliament, which means the cabinet has to be once again approved by lawmakers.
Prime Minister Irakli Gharibashvili signed a decree on May 1st, nominated three new members of the cabinet and expressing his hope that the President would present the cabinet to Parliament as soon as possible. However, President Giorgi Margvelashvili decided to use his constitutional power and postpone signing his approval of the list of the ministers for a week. According to the President, he was displeased with the frequency with which the post of Minister of Defence has been replaced. Initially the PM was going to nominate only two new ministers to replace the former Ministers of Sports and Environmental protection, who resigned in April. However, Gharibashvili decided to also dismiss Defence Minister Mindia Janelidze and nominate Tina Khidasheli as his successor.
"I have a feeling that the government operates in a "force majeure mode," Margvelashvili said.
The PM and Georgian Dream ruling party were confident that the President would have submitted the new cabinet to Parliament immediately and had planned to carry out vote of confidence on May 2-3 parliament session. However, the vote now has to be delayed for a week.
Speaking at a special briefing, President Margvelashvili said he decided to give the PM and Parliament enough time for consultations. According to Margvelashvili, it is important to consider various challenges Georgia is currently facing and compose the cabinet after proper consultations without rushing any decisions.
Commenting on President's decision, Speaker Davit Usupashvili said that Parliament is ready to start the vote of confidence. However, there is nothing wrong with Margvelashvili's decision to use his power granted by the constitution.
Leader of the United National Movement (UNM) opposition party, Davit Bakradze, stated that the situation is rather chaotic at the present and therefore he welcomes the President's decision. According to Bakradze, the country is facing an economic crisis and the PM should consider changing his economic team in the cabinet.
The UNM has been requesting consultations with the President for some time now. However, Margvelashvili refuses to meet with the opposition party and discuss the cabinet composition. It is doubtful that the meeting can bring any results, as the constitution does not grant the President enough power to block either a candidate or a whole cabinet.