Tbilisi hosts Georgia-Moldova-Ukraine Parliamentary forum
By Ana Robakidze
Tuesday, May 5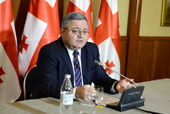 Parliament Speaker Davit Usupashvili hopes the Association Agreement (AA) between Georgia and the European Union will advance the country and help with its economic development.
"Due to our current economic capabilities it is impossible to join the European family," Usupashvili said addressing Georgia-Moldova-Ukraine Parliamentary forum on May 4. He explained that security, which is one of the main issues currently facing Georgia, is very important but it cannot be the only national concern. According to Usupashvili, the development of democratic institutions, the economy and offering better living standards to citizens should be the priority.
"The AA is a great chance and lever for Georgia, as well as for Ukraine and Moldova to have a breakthrough in many directions. This is very important," the Speaker stated and added that the unemployment level is extremely high and average income very law. Therefore, the country must drastically improve in these areas in order to officially become part of Europe. Usupashvili called on Georgian citizens to get involved in the process of establishing Western values.
The head of the EU mission in Georgia, Janos Herman, also addressed the forum and said that European active steps must be taken for the adaptation of European values, rather than only discussing the issue. He also reminded his colleagues in the EU that the organization has to come forward and be more active in terms of supporting the Eastern Partners in implementing the AA.
Herman reminded the participants that the path to EU membership will be quite hard for the Eastern Partner states. However, he promised that the EU will put all efforts to bring integration process with the partner states to a new level.
"Economic growth is very important," Herman said, emphasizing the importance of stable economic growth for the eastern partners. The EU ambassador also spoke about the threats in the region and said that Eastern Europe is under a lot of pressure, and said it is time for the EU to support the restoration of stability in the east.