Monthly Inflation Rate was 0.3 % in April
Tuesday, May 5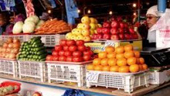 The monthly inflation rate in Georgia amounted to 0.3 percent, the Georgian National Statistics Office (Geostat) said on May 4.
In the reporting period the following groups were mainly responsible for formation of the inflation rate: Transport: the prices increased 1.8 percent; therefore, the contribution of the group to the monthly inflation rate amounted to 0.20 percentage points.
The prices rose for transport services (1.7 percent) and operation of personal transport equipment (2.1 percent); Alcoholic beverages, tobacco: in the reporting period the prices increased 1.0 percent, contributing 0.06 percentage points to the overall monthly index.
Price increases were recorded for the subgroup of alcoholic beverages (1.7 percent); Food and non-alcoholic beverages: the prices for the group decreased 0.3 percent, which contributed -0.08 percentage points to the overall monthly inflation. The prices were down for milk, cheese and eggs (-2.7 percent) and vegetables (-2.6 percent). The prices increased for fruit and grapes (5.2 percent).
(Frontnews)