No changes in the economic team of the government
By Messenger Staff
Tuesday, May 5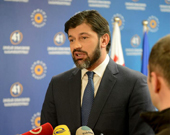 The Prime Minister of Georgia, Irakli Gharibashvili, has reshuffled the cabinet. However, the changes did not affect the economic team of the government. Questions over the effectiveness of Ministers of Finance and Economy arose back in autumn 2014, when the national currency started to lose its value and the government (as well as the national bank) failed to stop the GEL devaluation. The government claims that changing the ministers will not help with stabilizing the currency rates.
Georgia has serious economic problems; its currency has lost around 30% of its value and expected 6% annual economic growth is unreachable. A 2% growth is the best Georgia can achieve in 2015.
The United National Movement party (UNM) is not going to support the reshuffled cabinet in the parliamentary confidence vote.
"The cabinet is incompetent. It is obvious that the Prime Minister is a puppet and he is not capable of making his own decisions," said MP Mikheil Machavariani of the UNM while commenting on the new composition of the cabinet. He said the identity of the ministers does not matter, it is more important to handle the most problematic issues, such as creating jobs, stabilizing GEL rates and ensuring annual economic growth.
The Free Democrats, the second largest opposition group in the parliament, also refuses to support the cabinet. Zurab Abashidze, one of the party leaders confirmed that his team also has concerns over the ministers of economy and finance.
"The economic team had to be the first to be reshuffled of course," Abashidze said.
Vice PM and Minister of Energy Kakha Kaladze believes changing the ministers is not necessary as existing problems have to be handled by the team, not by individuals.
"No one doubts that Georgians are facing financial difficulties, and the economic and social environment is difficult. However, if there is a problem ,team members have to solve it through joint efforts," Kaladze said. The Vice PM is sure the national currency rate will become stable in nearest future.
The Parliamentary majority supports the reshuffled cabinet. However, many MPs from the ruling Georgian Dream Coalition agreed it was necessary to summon Ministers of Finance and Economy to Parliament for additional consultations. Reportedly the economic team of the government will visit parliament next week.