Preparations for the annual EBRD business forum is concluded
By Ana Robakidze
Thursday, May 7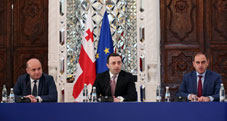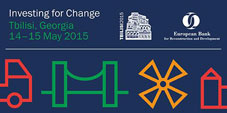 Georgia's capital Tbilisi will host the 24th Annual Meeting of the Board of Governors and Business Forum of The European Bank for Reconstruction and Development (EBRD). The event will take place in the Parliament building and Youth Palace on 14-15 May 2015.
"It is our honour to host you," Prime Minister Irakli Gharibashvili said while addressing EBRD representatives at the session of the State Commission for organizing the EBRD Annual forum. On May 6th the PM visited the Parliament building and Youth Palace in Tbilisi to check the work being done by the business forum organizing committee. Georgia spent over 17 million GEL to organize the forum, and Gharibashvili said he is happy with the commission's work and Tbilisi is now ready to host the EBRD delegation and business representatives.
"We are proud to say that our reforms, steps taken for developing democratic institutions, and great potential we have in developing infrastructure, logistics and energy sectors stipulated the decision to held the forum in Georgia…the preparatory work was done at very high level. I would like to thank EBRD for choosing Tbilisi as a host city of the Annual business forum. This is a demonstration of confidence in our country, our government, and we appreciate it very much," the PM said in his address to the state commission and EBRD representatives.
The EBRD Annual Meeting is an institutional event where key decisions are taken about the Bank's direction. In parallel, the EBRD also holds a business forum that offers debate, networking with senior decision-makers, investment outlook sessions and other events focusing on countries where the Bank invests.
The EBRD, founded in 1991 to help its countries of operations on the path to democracy and market economy, is now investing in 34 states. In 2012 it added Egypt, Jordan, Kosovo, Morocco and Tunisia to the regions in which it works.