Parliament approves reshuffled cabinet of Gharibashvili
By Ana Robakidze
Monday, May 11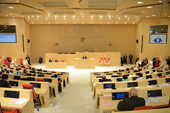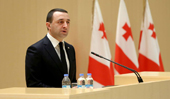 The new cabinet of Georgia won its confidence vote with 87 votes on May 9. The extraordinary session of Parliament which opened on May 8 to discuss the new composition of the government finally ended at 2:30 am next morning.
Parliament approved the reshuffled cabinet with three new members: Tinatin Khidasheli (Republican Party) as the Minister of Defence, Gigla Agulashvili (Republican Party) as the new Minister of Environment Protection and Tariel Khechikashvili as the country's new Minister of Sport and Youth Affairs.
Before the confidence vote, MPs from the majority as well as the minority addressed the parliament. MPs from the opposition focused on financial difficulties and the constant depreciation of the national currency. In reply, Prime Minister Irakli Gharibashvili and MPs from the ruling Georgian dream coalition claimed that the GEL's depreciation was caused solely by external factors such as the current recession in Russia, the strengthening of U.S. dollar etc..
In his address to Parliament, PM Gharibashvili spoke about the success of his cabinet and future plans.
"Today we live in a country where our citizens are no longer afraid to express their opinion, where inmates are not killed and tortured, where business is no longer terrorized and where the government hears the voice of the people…where the police and the army are de-politicized and the media is free from state control," the PM said and asked Parliament to give a confidence vote to his cabinet so that his government could have additional momentum to continue with new energy to meet the requirement of Georgian people.
The time has come to move to the stage of development where citizens will have new opportunities for employment and where each and every citizen can benefit from results achieved in healthcare, agriculture, economy, education and in other sectors…currently we are in the middle of moving to a very important stage. Our government is doing everything to make the process of Europeanization and modernization irreversible," Gharibashvili stated.
Along with the reshuffled cabinet, Parliament gave its confidence vote to the Government's renewed Action Plan "For a strong, democratic and united Georgia", which is a 66-page document drafting Georgia's future development plan until 2020.