Political background of the May 9
By Messenger Staff
Monday, May 11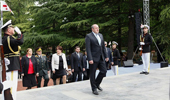 May 9 always ued to be a day to celebrate the free world's victory over fascism and a day to pay tribute to those fallen in the WWII. However, with Russia bringing forward its neo-imperial ambitions and demonstrating its military power by vast parades every May 9, the main idea behind the celebration seems to have gradually changed.
Moscow marked 70 years since the victory over Nazi Germany with a spectacular parade at Red square featuring some 16,000 soldiers, 200 armored vehicles and 150 planes and helicopters. The invitation to attend the ceremony in Moscow was sent to leaders of all leading countries, but the western leaders refused to visit Moscow and reminded President Vladimir Putin of his aggressive policies in Ukraine.
President Putin sent his congratulations to only several leaders of the former Soviet countries, including leaders of Azerbaijan, Armenia, Belarus, Kazakhstan, Kyrgyzstan, as well as the break-away regions of Abkhazia and South Ossetia. However, the leaders of Georgia and Ukraine were left out of the list. The Russian president sent his greetings and congratulations only to the Georgian and Ukrainian people.
Georgian political leaders, who visited the grave of the Unknown Soldier in Vake Park in Tbilisi, paid tribute to the victims of the war, but refrained from making political statements on May 9. The President of Georgia, the Prime Minister, the Ministers of Defence and Internal Affairs and the Mayor of Tbilisi all visited Vake Park but decided not to mention Russia and its association with the May 9 celebrations, and instead only spoke about the victory over Nazi Germany.
At least 5 activists were detained by the police on May 9. They were confronted by people who wore Georgievsky ribbons to Vake Park. The orange/black stripped ribbon is a symbol of the Russian military. The activists demanded the ribbons to be taken off, which caused confrontations between the parties. It must be mentioned that Georgian administrative law bans any display of Soviet-related symbols.
The celebration of the victory looked rather different in Stalin's hometown of Gori, where members of Communist party held a rally, waving Soviet flags.