President Margvelashvili visits Brussels
By Ana Robakidze
Tuesday, May 12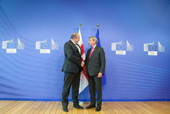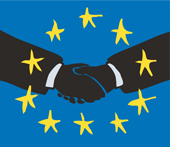 President of Georgia Giorgi Margvelashvili is paying a two day official visit to Brussels. According to the President's adviser in international relations, Tengiz Pkhaladze, Margvelashvili left for Brussels to discuss European Union-related issues and the upcoming Eastern Partnership summit in Riga.
"Every meeting that can take place before Riga summit is extremely important, especially if the meetings are with high officials of the European Commission and European Parliament," Pkhaladze said at a press conference on May 11. He said that Margvelashvili will speak about the path Georgian took to attend the Riga summit and future prospects the country has in its relations with the EU.
On May 11, Margvelashvili and the Minister of Foreign Affairs, Tamar Beruchashvili, held meetings with Euro Commissioner Johannes Hahn and NATO Secretary General Jens Stoltenberg.
Georgia and Moldova will receive 150 million EUR as a grant from the EU. The news was announced by Commissioner Hahn at the joint press conference held after his meeting with President Margvelashvili. The Commissioner spoke about the outcome of the Deep and Comprehensive Free Trade (DCFTA) Agreement signed between Georgia and EU and said the agreement has had a positive effect in increasing trade turnover. He said that Georgia and its businesses, especially small and medium entrepreneurs, should be better prepared to meet DCFTA requirements.
"Georgia works to deepen relations with the EU and I believe our involvement will lead us to positive outcomes for all involved," Margvelashvili said at the press conference and added that Georgia is very happy with its relationship with the EU.
Today, on May 12 the Georgian President will hold a meeting with the President of European Council, Donald Tusk. He will also participate in the conference 'Eastern Partnership – Partnership of Free Choice' and deliver a speech at the foreign committee of the Euro Parliament and answer questions for the media.