Georgia's Energy Minister: Gas prices may drop, electricity prices may rise
Tuesday, May 12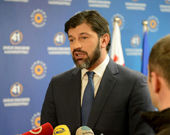 The cost of power could soon increase in Georgia, however the price of natural gas could drop, says the country's Minister of Energy Kakha Kaladze.
Speaking on an analytical television show on Rustavi 2, Kaladze mentioned price changes for gas and electricity could become a reality in Georgia in the near future.
"Taking a look at price trends, [prices] are clearly beginning to decrease even against [the cost of] Russian gas. You know that we have a special price on Azerbaijani gas. I do not exclude a possible price reduction in the future," Kaladze said.
At the same time the Georgian official said the cost of power could increase and if it did, the Georgian Government had spoken about offering subsidies to the public.
However, this was not confirmed as it was dependent on the exchange rate of the national currency. Kaladze noted if Georgia's national currency, the Lari, stabilized as expected, the cost of energy might not increase.
Meanwhile, energy companies had recently applied to the Energy Regulatory Commission and asked to revise tariffs, Kaladze said. The Commission will make a final decision on September 10 whether electricity costs will increase, reduce or stay the same.
Kaladze explained that companies were encouraged to ask about a revision of costs because of the Lari devaluation, but added "there is no reason to panic".
"The Lari devaluation hit energy companies and created problems for them. In particular, the thermal power plants suffered due to the Lari depreciation as they mainly work on natural gas, which is imported from Azerbaijan and Russia.
"These companies purchase natural gas in US dollars and people pay for its consumption in Lari. This is the reason why the energy companies requested the Energy Regulatory Commission to revise the prices.
"I do not exclude that the price of energy will increase but [if it does] it is possible the Government will subsidise it," Kaladze said.
(Agenda.ge)