New government faces old problems
By Messenger Staff
Tuesday, May 12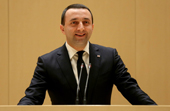 Parliament confirmed a new government, including the Prime Minister, with 87 votes for 38 against on May 8.
The renewed government gained the parliament's trust after two-day hearings.
The Ministers of Defense, Infrastructure and Sport are new faces to the Cabinet, while other officials retained their previous positions.
The opposition MPs from the United National Movement and the Free Democrats refrained from voting for the new Cabinet.
After the confirmation Prime Minister Irakli Gharibashvili claimed that Parliament's trust would be an additional stimulus for the new Cabinet to continue to work hard on behalf of the Georgian people.
The PM also stressed that Georgia has moved to the new stage of advancement when the media is no longer suppressed, when business is free from political pressure and the law-enforcement bodies are totally depoliticized.
"Georgia`s European intentions have become irreversible," the PM said.
The PM`s two-hour speech at the legislative body was either accompanied by the majority's ovations or the opposition's ironic exclamations, as the opposition is accusing the authorities of provoking economic difficulties in the country.
The Prime Minister stressed that the national currency that has lost 32 % of its value against the dollar since November 2014 but would become stable in the near future.
He emphasized that the Lari devaluation was due to factors abroad beyond the government's control.
In response, the opposition stresses that the Lari depreciation was quite predictable in the course of the Russian-Ukrainian conflict and the government failed to timely address to the challenge.
The opposition also grilled the government for their statements, which they claim have been made as if there was no economic crisis in the country.
Part of the majority representatives shifted the blame concerning the Lari problems onto the National Bank of Georgia and blamed its President Giorgi Kadagidze in undertaking misguided policies.
In his speech, Parliament Speaker Davit Usupashvili said that Georgia is facing three major challenges currently; the security related topics and strained situation in the region, the completion of necessary reforms (in particular those required in the Interior Ministry and the Prosecutor's Office), and the current economic troubles and the creation of jobs.
The fact is that the country is still facing the problems it used to, when there are still talks regarding yet another government reshuffle in the summer.