President Margvelashvili meets NATO Secretary General in Brussels
By Ana Robakidze
Wednesday, May 13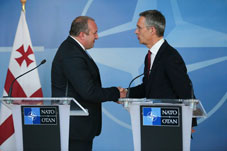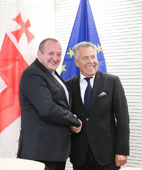 Through cooperative efforts over recent years, Georgia and NATO have developed a close working relationship, which has led Georgia to become a strong partner for the organization, NATO Secretary General Jens Stoltenberg said after his meeting with President of Georgia Giorgi Margvelashvili in Brussels.
Speaking at the joint press conference on May 11, Stoltenberg stated that Georgia, a sovereign state, has the right to decide for itself as to which international paths it will follow, including security arrangements and the joining of military alliances.
"Whether Georgia is going to become a member of NATO or not is something which is up to Georgia and the 28 NATO Allies to decide. It is not up to any other nation to veto or to interfere in that process. We are continuing to work with Georgia on a substantial package, and Georgia is making progress." Secretary General said.
According to Stoltenberg, he and Margvelashvili discussed Georgia's progress in making the defence sector more transparent and accountable, as well as the process of setting up a NATO-Georgia Joint Training and Evaluation Centre in Georgia.
"The centre will improve our troops' ability to work together – troops from Georgia, NATO and from partner countries," Stoltenberg said. He also advised the Georgian government to continue with its democratic reforms and strengthen the independence of the judiciary, as well as the rule of law.
President Margvelashvili thanked the Secretary General for supporting Georgia and said the country will continue with strengthening its democratic institutions to meet NATO standards.
"Georgia will continue its path towards democracy, towards the introduction of democratic values which the alliance has been built upon. We will also continue our… military cooperation." Margvelashvili said.
As a part of his official visit to Brussels, the President of Georgia met with the leader of Socialists and Democrats in Euro parliament, Gianni Pittella and the President of Union of European Chambers of Trade and Industry, Richard Webb. The meeting with President Webb was attended by Minister of Foreign Affairs of Georgia Tamar Beruchashvili, President of Georgian Chamber of Commerce and Industry Kakha Baindurashvili, the President's economic adviser Giorgi Abashvili and Foreign Secretary Tengiz Pkhaladze.