Georgian citizen abducted near the occupied region
By Ana Robakidze
Monday, May 25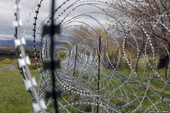 Gia Solashvili, a citizen of Georgia, was abducted from the Karkusaani village located at the administrative border between Georgian-controlled territory and the breakaway region of South Ossetia. Solanashvili arrived in the village to attend his mother-in-law's funeral.
Solanashvili was detained by the South Ossetians with the charges of illegally crossing the "state" border. The Georgian side has already informed the EU monitoring mission which works along the wire barber creating the border line with the breakaway region. Releasing Sosanashvili is not the only problem his family has right now. The Sosanashvili's friends and family members cannot put his mother-in-law to the rest as the local cemetery is located within the occupied territories.
Gia Solashvili is one out of five Georgians who were detained in the occupied region only this month.
Foreign Minister of Georgia Tamar Beruchashvili says human rights protection has become a serious problem in the occupied regions of Georgia and unlawful actions of the occupant forces have gone out of control.
"The abduction of citizens is totally unacceptable. This is a violation of human rights and all agreements signed between Russia and Georgia. This is a very sad reality. The issue is regularly raised by Georgian diplomats at all international meetings,'' Beruchashvili said.