GEL Depreciates Again
Monday, May 25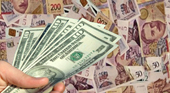 Georgia's national currency has devalued once more against the Dollar.
The National Bank of Georgia has set a new exchange rate, according to which, 1 USD will cost GEL 2.2773 from May 23. The previous rate was GEL 2.2545.
According to NBG, the Lari has devalued against the Euro. One Euro will cost GEL 2.5478 from May 23; while, the previous exchange rate was GEL 2.5151.
(Frontnews.ge)