Georgia marked Independence Day
By Ana Robakidze
Wednesday, May 27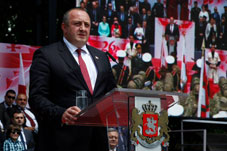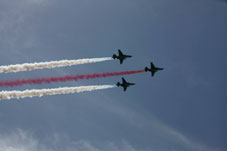 On 26 May, Georgia marked Independence Day with various outdoor events and festivities that took place in the capital, Tbilisi, and 12 self-governing cities in the country.
"I would like to greet every Georgian, the whole of Georgian society, our multinational state and those who are celebrating Independence Day abroad. I would like to greet the Patriarch of Georgia, the Prime Minister of Georgia and his spouse, the Speaker of the Parliament, distinguished guests and our Army. I welcome the diplomatic corps and our allies, who are celebrating this day with us. Noe Zhordania, the chairman of the Georgian Government used to say, meet May 26 and you will see the power of freedom. As the first President of Georgia, Zviad Gamsakhurdia, used to say that one could not take away someone's freedom.
Today, we are celebrating May 26 of 1991, as well as our short-lived independence of 1918. We also celebrate another victory in our long history - we celebrate when Kuji Eristavi and the King Parnavaz decided to establish a unified state, when Bagrat III united Georgia, David the Builder liberated Tbilisi and Giorgi V once again united our homeland," the President of Georgia, Giorgi Margvelashvili, said in his statement.
Georgia is an independent and sovereign state transforming itself into a truly democratic country, Irakli Garibashvili said in his official letter congratulating Georgians on the Independence Day.
"May 26 marks the greatest event in Georgian history. This day has defined the future of Georgia, and today, after a 70-year gap, our country is once again an independent and sovereign state. This great achievement was built upon the blood, sweat and tears of our nation. We all must cherish this achievement, which is one that we have fought over the centuries. We must strive for a better future for our homeland. Today, Georgia is on a path to democracy, which is the unwavering choice of the Georgian people and the only path to bring about our country's development and lead us into the family of European nations," Gharibashvili said.
Rustaveli Avenue, the main street in Tbilisi, was transformed into a scene for various performances, exhibitions and other activities for the celebrations. The Georgian government, as well as foreign diplomats, also joined the citizens in celebrations.
Ninety-seven years ago, the National Assembly gathered to adopt and sign the Act of Independence and establish the Democratic Republic of Georgia. Since the early 19th century, Georgia was a part of the Russian Empire; its independence was a product of the chaotic aftermath of the Russian Revolution of 1917. After the collapse of the Russian Empire, Georgia declared itself an independent state; however, its independence was lost in 1921 after the country was invaded by the Bolshevik Red Army. Georgia once again declared independence on April 9, 1991 after the collapse of the Soviet Union.