Georgia non-governmental organizations say informal governance remains to be a challenge
By Ana Robakidze
Friday, May 29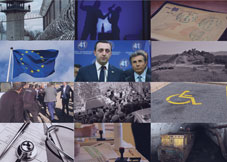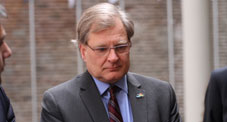 The Georgian non-governmental organizations that monitor the Georgian Dream ruling coalition's work say there are many challenges remaining. The Georgian Dream's performance review was completed and released by a coalition of Georgian NGOs, but according to the document, Parliament is weak in terms of checking the executive government.
"..especially when it comes to monitoring the law enforcement agencies. What is more, the parliamentary majority, with a few exceptions, approved all amendments initiated by law enforcement bodies, including the ones that have been assessed very negatively by the civil society, without a question. Events around the secret government surveillance regulations exactly prove the point: with Parliament's approval, to date, the law enforcement agencies retain unfettered access to the data stored within telecommunications. During this time, the requests of the parliamentary minority on inviting ministers toParliament to discuss the latest developments were ignored," the report states and recommends MPs to concentrate on thematic discussions during their speeches, improve its oversight of the executive government.
The NGOs say the government has achieved much progress; however, for the last two years some worrying trends have emerged, including massive dismissals of civil servants which took place both in central and local government, and the government has not made any progress in terms of creating an independent and impartial public administration. The report says it is alarming that there have been multiple signs of informal governance.
Georgian NGOs advised the government to eliminate any occurrences of informal governance and respect the existing accountability mechanisms which obligate it to carry out the rulings of the court and respond to queries from the Members of Parliament and finalize large scale state reforms.
According to Eka Gigauri, Head of Transparency International Georgia, while working on the report ,NGOs monitored various fields.
"Assessment of the governance system is the first direction. As for the parliament, we think many opposition parties are represented in the Parliament today, which is good. Though, on the other hand, discussions often turn into accusations and people receive no information about MPs' opinions regarding this or that matter, and this is a problem," Gigauri stated after the presentation of the report.
The U.S Ambassador in Georgia, Richard Norland, also commented on the report and said he highly welcomes the freedom Georgian non-governmental sector has. He said the government usually listens to the NGOs and reacts to their recommendations.
The report provides an overview of the reforms and changes undertaken by the Georgian Dream government in over 20 key public policy areas including: general governance, electoral reform, local self-governance, human rights and equality, economy and investment environment, foreign policy, open government and media environment.