GZAAT 11th graduation ceremony
By Ana Robakidze
Monday, June 1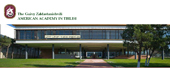 The 11th graduation ceremony of the Givi Zaldastanishvili American Academy in Tbilisi (GZAAT) took place on May 30th. The event took place at Tbilisi State Conservatory and hosted many Georgian celebrities, the board of trusties of the academy, foreign guests as well as proud parents of the alumni.
The ceremony was opened by a group of the academy students who performed Gaudeamus Igtur, which was followed by the Georgian anthem.
Mamuka Khazaradze, the President of the TBC Group, and a member of the board of trusties of the academy, addressed the guests. He then congratulated the graduates and said they had a brilliant future awaiting them.
Khazaradze, who was attending the ceremony not only as one of the founders of the academy but also as a proud parent of the alumni, spoke about the international success the academy graduates have had for over the years of the academy's existence. He asked the alumni, who plan to do their degree abroad and then come back home as soon as Georgia is in need of good professionals in every field.
Khazaradze spoke about the scholarships the academy graduates have received from foreign universities. He said that in 2014, around 3.3 million USD was the total amount of scholarships received by the former American Academy students.
Donald W. Thomas, Founding Director, Courtney E. Austrian, representative of the U.S Embassy in Tbilisi and Andres J. Cruz, Director of the Academy, also delivered their graduation speeches, giving life advice to the students.
At the end of the event, graduates received diplomas from Mamuka Khazaradze and Andres Cruz.
The Guivy Zaldastanishvili American Academy in Tbilisi is a privately owned high school, which enrolls only students of 9-12th grades.
Subjects at the school are taught exclusively in English, though Georgian and Russian are also studied.
DZAAT was founded in 2001 by Guivy Zaldastanishvili, a U.S. based Georgian businessman, and Donald Thomas, an American educator who taught at and led both public and private schools in Boston, Massachusetts. Receiving US State Department grants of over two million dollars, the school was founded to be a model for the transformation of Georgian education, which was absolutely necessary as at that time, when the country was in the process of transforming itself from the Soviet state into a state of democratic free-market economy.