Mikheil Saakashvili becomes Odessa governor
By Ana Robakidze
Monday, June 1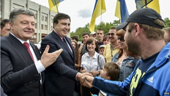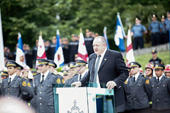 Ukraine has appointed former President of Georgia Mikheil Saakashvili as the new governor of Odessa. Ukrainian President Petro Poroshenko made the announcement at a televised event in the Black Sea port in Odessa on May 30 and said Saakashvili is a great friend to Ukraine.
"There remain a large number of problems in Odessa; preserving sovereignty, territorial integrity, independence and peace…we are united by our love of Odessa and Ukraine…in just one year, Oddessites should feel that their living standards have improved." Poroshenko said, with Saakashvili standing beside him in Odessa port. The President assured Oddessites that the former Georgian president will carry out much needed reforms.
Appointing the strictly pro-western Sakshvili as Odessa's governor can be taken as signal to Russian government. Kiev wants to declared to Moscow that it is set on its pro-European course despite the bloody conflict in the country's east backed by Russia.
"Our main aim is to leave behind the artificial conflicts that have been imposed on this amazing society…together with the president and his team we are all going to build a new Ukraine," Saakashvili said after his appointment. He spoke about the potential Odessa has and said the city can become "main city, the capital of the entire Black Sea."
"The multi-ethnic, diverse, multi-cultural society of Odessa is its major potential – it's not a weakness, it's a huge chance; I do not know any other city with such history, traditions…there is no other city on the Black Sea which can compete with the potential of this wonderful city," the former Georgian President said.
To become the governor of Odessa Saakashvili had to become citizen of Ukraine and automatically lost his Georgian citizenship.
The President of Georgia, Giorgi Margvelashvili, commented on Saakashvili taking a new post in Ukraine and said his decision was an "insult" to Georgia and the Presidency, as Saakshvili was well aware he would lose his Georgian citizenship.
"The former Georgian President should not have given up his Georgian citizenship; by doing so he insulted our state and the Presidential institution. In my opinion values – such as citizenship – are more important than any career. This step by him is unacceptable for me," Margvelashvili said in Kutaisi, where he was attending a ceremony marking the Georgian Police Day.
Georgian law does not allow dual citizenship although the President is authorized to grant as an exception Georgian citizenship to a foreigner who is a citizen of other country.