Georgia announces new Hydro Power Plant - Khedula 3
Monday, June 1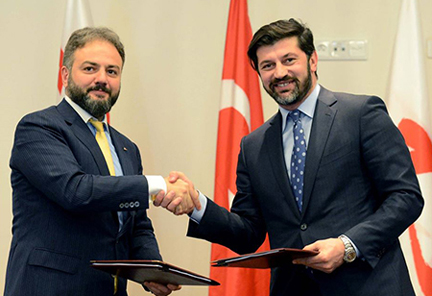 Khedula 3 – this is the name of a new Hydro Power Plant (HPP) that will soon be built in Georgia's Lower Svaneti region.
Turkish company Anadolu Tas?t Ticaret A.S. announced it would invest $80 million USD to build the 51 megawatt Khedula 3 HPP in Georgia.
The HPP will be built on Khedula River in Lower Svaneti.
Today Georgia's Energy Minister Kakha Kaladze and Anadolu Tas?t Ticaret A.S. Energy Group Coordinator Tugban Izzet Aksiyom signed a Memorandum of Understanding (MoU) on establishing the new power station.
Specifically, the MoU outlined Anadolu Tas?t Ticaret A.S. had 18 months to complete a feasibility study on the river.
The Turkish company has already funded the creation of the Paravani HPP in Georgia's Samtskhe Javakheti region.
"We are one of the largest investors in Georgia. More than 100 million US dollars has been invested in Georgia by our group. For us and other investors it is important to see that there is a stable political environment in the country. We will continue investing in Georgia. The Paravani HPP project is one of the bright stars in the region," said Aksiyom.
Georgia's Energy Minister said the Georgian Government was "doing everything it can" to utilise the all of the country's natural resources.
"This is being done for our people and for our country. This is being done for Georgia to be an energy independent country," Kaladze said.
Meanwhile the Energy Minister noted an official announcement about the problematic Khudoni Hydro-Electric Power Plant in Svaneti region will be made in the coming days.
"The decision about Khudoni HPP has already been made [and] society will learn about it in few days. Right now we are negotiating with an investor about the state's participation in the project," Kaladze said.
Problems have surrounded the establishment of the Khudoni HPP for more than 20 years.
Construction of the Khudoni dam on the Enguri River in western Georgia began in 1986 but was halted in the late 80s after protests over environmental concerns. The project has remained unfinished since then.
Environmentalists believed construction of the 200m dam and reservoir for the Khudoni HPP would cause the Khaishi village to flood, requiring the resettlement of local residents. For this and other environmental reasons, local residents, environmental protections groups and some experts are against the construction of the vast hydro power station.
Despite this the Government maintained that construction of the power plant will give the country energy independence and economic benefits.
(Agenda.ge)