Opposition parties and NGOs request majoritarian voting system to be changed
By Ana Robakidze
Monday, June 1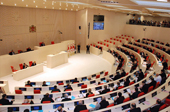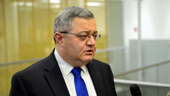 The Georgian Constitutional Court ruled on May 28 that the country's electoral system, in particular its majoritarian component, undermines the equality of voting and should be changed. The decision was made after Public Defender Ucha Nanuashvili, together with another applicant, applied to the court argued that the large discrepancy in the size of single-mandate majoritarian constituencies is violating the equality of suffrage.
"The authorities should try to minimize such inequality," the Constitutional Court said.
In the Georgian mixed system, 73 seats in the parliament go to majoritarian lawmakers and 77 to proportionally elected MPs; one of the major problems is the size of some single-mandates; majoritarian constituencies vary from each other by a number of voters, ranging from over 150,000 voters to less than 6,000 voters, which makes the system quite unfair.
Local Non-governmental organizations, opposition parties and even OSCE have been long calling on the government to change the election system.
Chairman of the Parliament, Davit Usupashvili said that the lawmakers will discuss the issue and come up with a decision to meet international standards as well as the Constitution.
"These provisions (on majoritarian component of the electoral system) have been part of the election code for about twenty years already. The Georgian Dream always had a clear position about the law before and after elections (in 2012) – this is a shortcoming and has to be dealt with. We are working on the issue and in the next stage of the electoral system reform will be presented to society in the nearest future," Usupashvili said on May 28.
In total, 14 opposition parties and 8 non-governmental organizations prepared a document and addressed the parliament to start law amendment procedures as soon as possible to create a fair voting system compatible with international standards.
"A change of the current electoral system is necessary in order to ensure a democratic, competitive and equal election environment. The current electoral system cannot ensure a proportional reflection of votes in mandates; a large part of votes are lost and the principle of equality is not protected. Therefore, it is urgent that Members of Parliament initiate constitutional amendments." says the document adopted after the conference on electoral reform initiated by the President, Giorgi Margvelashvili.
The ruling Georgian Dream Coalition still has to announce its official position about reforming the voting system.