Detainee reportedly commits suicide in Tbilisi
By Ana Robakidze
Tuesday, June 2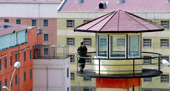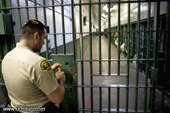 One of the detainees held at N 2 penitentiary facility in Tbilisi committed suicide on May 31th. The information was reported by the Ministry of Corrections. According to the ministry, Irakli Surmanidze, who was on trial for keeping and selling narcotic substances, committed suicide in the bathroom of the facility.
The ministry has already launched an investigation under article 115 of the Criminal Code of Georgia - Bringing to the Point of Suicide.
However, friends and family members of Surmanidze refuse to believe the official statement of the ministry and claim Surmanidze had both perfect physical and mental health and he would never commit suicide.
Their lawyer, Tamaz Bakuridze, says the official information cannot be trusted.
"To my greatest regret, when similar incident occur, state institutions always claim that the victim committed suicide, however investigations usually prove homicide. Surmanidze was detained on May 14 and was in perfect health. He was going to fight and prove his innocence." Bakuridze said, questioning the possibility that Surmanidze could have committed suicide.
Surmanidze's body has already been transferred to his hometown of Batumi.