Central Georgian forest destroyed in 2008 war given new life
Tuesday, June 2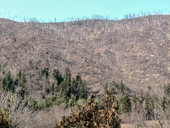 An area of natural forest in central Georgia's Borjomi region is being brought back to life after being engulfed in flames and suffering major burn damage when it was bombed in the August 2008 war.
More than 168,000 new trees were planted on about 80 hectares of area in Borjomi region to revive the forest that was burned or destroyed during the Russia-Georgia war, officials said.
Georgia's Ministry of Environment and Natural Resources also began work on the Biodiversity Strategy and Action Plan.
During the five-day war in August 2008, 170 servicemen, 14 policemen, and 228 civilians from Georgia were killed and 1,747 others were wounded. Sixty-seven Russian servicemen were killed, 283 were wounded and 365 servicemen and civilians were killed from Tskhinvali region (South Ossetia), according to an official EU report about the conflict.
The conflict centred on Tskhinvali region and Abkhazia, two breakaway provinces in Georgia. They are officially part of Georgia but have separate, unrecognised governments only supported by Russia.
(Agenda.ge)