Saakashvili's Ukrainian future grilled in Georgia
By Messenger Staff
Tuesday, June 2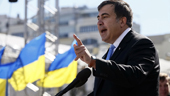 The appointment of Georgia's former President Mikheil Saakashvili as the governor of Ukraine's city Odessa has triggered discussions in Georgia.
His supporters and teammates assessed the fact positively, while the current government members have been critical to his appointment.
However, as a result of his appointment in Odessa, Saakashvili will be deprived of his Georgian citizenship and will have no genuine levers to become formally involved in the country's political developments.
Yet if Saakashvili will be successful in his new post, it will be a serious blow for the current Georgian leadership that has so far been unsuccessful in its economic policies.
Saakashvili was appointed to the post on May 30, having been granted Ukrainian citizenship the previous day.
Based on the Georgian constitution, Saakashvili automatically loses his Georgian citizenship after accepting the Ukrainian version.
Before selected for the position, Saakashvili was Ukrainian President Petro Poroshenko's advisor.
The Georgian law-enforcement bodies have several times appealed to the relevant bodies of Ukraine to extradite Saakashvili to Georgia, as the latter is wanted for several charges in his home country.
However, the appeal has been rejected. Saakashvili stresses that all the charges are politically motivated.
Saakashvili has always stated that Georgia citizenship was very important for him and he would have never refused it.
However, now he states that his current job is very "active and lively" and that Odessa would be the best among the cities in the Black Sea basin, an echo of similar statements he made previously regarding Georgian towns and regions.
While presenting Saakashvili to Odessian locals, Poroshenko said that the Georgian is an old personal friend and has the talent to make unimaginable transformations possible.
Ukraine's Deputy Minister of Justice, Georgia's former official Gia Getsadze, states that Saakashvili's new post is a serious blow to Russia. He also claimed that Saakashvili's being in Odessa would be beneficial for Georgia's de-occupation.
Georgia's President Giorgi Margvelahsvili stressed that Saakashvili insulted the Presidential institution with his recent step.
Leader of the Free Democrats Irakli Alasania states that he doubts Saakashvili will be able to bring success for Odessa.
Leader of the non-parliamentary opposition Democratic Movement-United Georgia, Nino Burjanadze stated that Saakashvili offended Georgians.
"I cannot remember a more shameful act in Georgian history," she said.
Georgia's Minister of Justice Thea Tsulukiani stated that there is no chance that Ukraine will extradite Saakashvili to Georgia.
Head of the NGO International Society for Fair Elections and Democracy, Nino Lomjaria, says that a citizen of a foreign country has no right to take part in political processes, pre-election campaigns among them, in Georgia.
It appears that the UNM will have to find a new leader, while Saakashvili risks much as his future reputation is completely dependent on his activities in Odessa.
Ukrainian MP Borislav Berioza does not exclude Saakashvili to be appointed as Ukraine's Prime Minister if he performs well in Odessa.
However, there have been some skeptical comments over Saakashvili's appointment in Ukraine itself.