Estonian President says Georgia has many allies in the EU
By Ana Robakidze
Thursday, June 4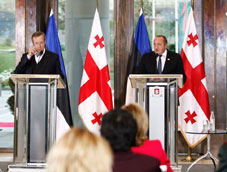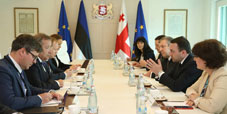 Estonian President Toomas Hendrik Ilves, who paid a two-day official visit to Tbilisi, reiterated his support to Georgia's aspiration to join the European Union and said the country is close to visa liberalization.
"You need to focus on technical issues, really. By the end of the year, the decision will be made to liberalize visa regime between Georgia and EU. It will also take another 4-5 months before that is implemented…it will happen," Ilves said at the press conference held after his meeting with Georgian President Giorgi Margvelashvili. He also said that it is wrong to believe that the Riga summit was unsuccessful for Georgia.
"The results of the summit were positive…let's see what happens in the next 4-5 months. Georgia should take into account the fact that it is necessary to match its legal framework with European legislation. Of course EU membership is a good thing, but Georgia has to do its homework first," Estonian President said.
According to Hendrik. Georgia has many supporters within the EU and it should focus on its allies rather than those who oppose its membership.
"We knew that certain countries were against us when we went down this path and tried achieving our European goals, but we focused on our friends and Georgia should share the good feelings that certain countries have towards you. This is quite a long process," Ilves stated.
President Margvelashvili thanked his counterpart for supporting Georgia and said he is sure that other partner states will help to promote the country on its path towards EU and NATO.
"We will continue to move along our Euro-Atlantic path. Georgia has a very powerful mechanism in the NATO-Georgia Substantial Package. We have strong mechanisms in the direction of the European Union as well. I assured my colleague that Georgia would further strengthen its efforts for its European path. I hope that this visit will further deepen the level of cooperation between us," Margvelashvili stated.
Before leaving Tbilisi on June 3rd, President Ilves also held a meeting with Prime Minister Irakli Gharibashvili.