Meeting with President of Estonia
Friday, June 5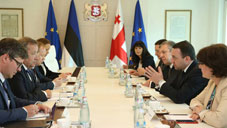 Prime Minister of Georgia Irakli Garibashvili met with the President of Estonia, Toomas Hendrik Ilves. Minister of Defence Tinatin Khidasheli and the members of the Cabinet of Ministers attended the meeting held in the Government Administration.
As the Minister of Defence underlined, Estonia is an important partner of Georgia; the current relationship between Georgia and Estonia will further deepen and official visits will be planned. "Several visits have been scheduled in Tallinn this year that will promote the intensification of our bilateral partnership and will help us to maximally use the opportunity offered by this state," said the Minister.
The key topics of discussion at the extended meeting were Georgia`s European and Euro-Atlantic aspirations, an intensive cooperation with Estonia and enhancement of bilateral relationship.
Estonia`s support of Georgia on its path to European integration as well as the support from the partner countries` experts were emphasized by the sides. Bilateral visits were also planned during the meeting.
The Estonian President is staying in Georgia on an official visit.