PM against marijuana decriminalization
By Ana Robakidze
Friday, June 5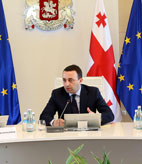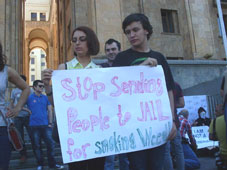 The Prime Minister of Georgia said 'no' to the decriminalization of marijuana in Georgia during a cabinet meeting on June 4.
"My attitude is strictly negative towards this, but I also realize my teammates might have different opinions. Our drug policy will be revised, but before that we need to carefully consider the consequences," the PM said, adding that the decriminalization will bring only negative consequences to future generations.
According to Gharibashvili, it is better to focus on improving the quality of life for young people and to promote a healthy lifestyle instead of demanding marijuana's decriminalization.
On June 2, activists demanding the decriminalization of marijuana organized rally in from of the government building in the center of Tbilisi. Activists demanded not only to stop sending people to prison for using or storing marijuana for personal use, but also to stop forced drug tests. Police officers are authorized to take a random person to forensics bureau if they deem the person to be suspicious. The activists said on June 2 that the procedure is shameful and totally incompatible with the Georgian constitution. It was the third rally held this year. Some protesters danced and smoked while others held posters saying "Do Not Arrest".
Georgian law is quite strict about drug crimes and the liberalization of drug policy is one of the recommendations country received from the EU. The major problem with the law is that it does not differentiate drug trafficking and possession of drugs for personal use and can send a person to prison for over 10 years if he possesses a particularly large amount of drugs including marijuana even for personal use.
Georgia needs to fulfill this recommendation as a part of the visa liberalization action plan.