Jury fails to agree on verdict in Makharadze's murder case
By Ana Robakidze
Monday, June 8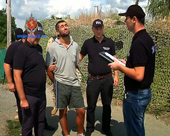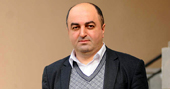 The jury failed to rule out its verdict in the murder case of Lasha Makharadze. On June 5, the jury was given 13 hours to announce the final decision. However, Giorgi Okropiride, who is accused of murdering Makharadze, was neither found guilty nor acquitted.
The next court session is planned to be held as soon as possible, as the jury has to make the decision before June 12. In case the jury members once again fail to agree on a verdict, Okropiridze will be released from detention and will wait for his verdict at home, as the 9 months period which is the maximum accused person can be kept in pre-trial detention expires on June 11. After 13 hours of futile jury deliberation, Judge Eka Areshedze dismissed the jury. The composition of the jury will change for the next court session.
Makharadze's mother, Nino Didebulidze, who is not happy with prolonged court hearings and is sure Okropiridze killed her son, puts the impartiality of the court under question and claims Okropiridze has to be sent to prison, as she believes his release will put her family members and witnesses in danger.
Didebulidze believes jury members have been under pressure, hence no verdict could be made. She believes the defendant was able to intimidate the jury.
After the jury failed to rule out its verdict on a high profile murder case, many experts started to questions whether the institution of jury, which is new to Georgia can really be effective.
The Public defender Ucha Nanuashvili already suggested reforming the institution, which has not even been launched in its full.
25-year old Lasha Makharadze was shot dead on September 2, 2014 on Abashidze Street in the center of Tbilisi. Okropiridze was detained a few days later, for committing murder in aggravating circumstances and for the illegal possession of a firearm. It is not the first trial for Okropiridze; in the past he served a prison sentence for premeditated murder.