Georgia's ISAF mission Corporal died in Gori hospital
By Ana Robakidze
Wednesday, June 10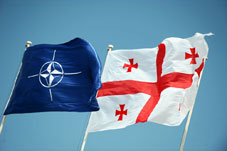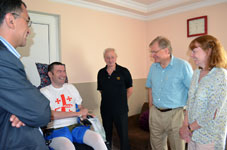 Corporal Ramaz Davitaia, who served in ISAF mission and was injured on June 20, 2012 in the southern Afghan province of Helmand passed away in Gori military hospital on June 8.
President of Georgia Giorgi Margvelashvili, Prime Minister Irakli Garibashvili and Defense Minister Tina Khidasheli released official statements of sympathy over the death of Corporal Davitaia. Flags were lowered on all administrative buildings under the Ministry of Defence and on the base of 2nd Infantry Brigade.
"I was deeply saddened to learn today of the passing of Corporal Ramaz Davitaia, who suffered grievous wounds during his service in support of NATO's ISAF mission to Afghanistan nearly three years ago. Corporal Davitaia was a shining example of bravery, strength, and heroism. Since his return from medical treatment at a U.S. facility in Germany, Mary and I were honored to have the opportunity to spend time with him and his family. We saw him last Thursday in Gori but did not know this would be our last goodbye. We are heartbroken, and on behalf of the United States, I extend deepest condolences to Corporal Davitaia's family, friends and fellow soldiers – may his spirit live on in all our hearts. In honor of Corporal Davitaia, I have ordered the U.S. Embassy's flag be lowered to half-staff for the next 24 hours." U.S ambassador in Georgia, Richard Norland said in his statement.
Davitatia, who joined the Georgian army in 2007, served in the 23rdBattalion of the 2ndInfantry Brigade. He was awarded with the Vakhtang Gorgasali III Rank Order, Medal for Participation in Peacekeeping Operations and Medal for Combat Wound.
Davitaia underwent medical treatment in the U.S. military hospital in Heidelberg and went through rehabilitation in the "New Hospital" and Military Hospital of the Defence Ministry. The ministry was in negotiations with the U.S partners to arrange transferring Davitaia to one of the U.S health care centers for further treatment.