Defence Minister at Armour Training Center
Friday, June 12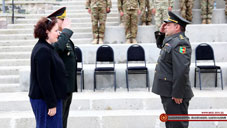 Defence Minister of Georgia Tinatin Khidasheli visited the Lieutenant Shota Khurtsidze Armour training Center in the Akhaltsikhe region together with Chief of General Staff of the Georgian Armed Forces, Major General Vakhtang Kapanadze and Commander of Training and Military Education Command, Colonel Levan Beria. The Head of the Armour Training Center, Colonel Leri Gelkhauri hosted the MoD top brass. The guests viewed the infrastructure of the Center and were given information on its abilities.
Later on, the Defence Minister and the Chief of General Staff moved to Rabat Castle to attend the courses' graduation ceremony of the Armour Training Center. Tinatin Khidasheli and Major General Vakhtang Kapanadze congratulated the military servicemen of junior officers, tank commanders and mechanized specialists' courses on successful completion and awarded them with their diplomas.
The nine month-long training program mostly included field training, as well as mastering in driving and exploitation of the T-72 and T-55 tanks, as well as the armoured personnel carriers and infantry fighting vehicles, the BMP-1 and BMP-2. Military servicemen underwent tactical, technical and engineer training.
The course graduation ceremony was accompanied by the folk ensemble "Meskheti".