Marathon "Lets Win Together"
Friday, June 12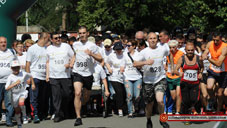 A marathon race, titled "Lets Win Together", was led from Mitskevichi Street to Freedom Square. Minister of Defence Tinatin Khidasheli and Chief of the General Staff of the GAF Major-General Vakhtang Kapanadze participated in the marathon.
Together with the military servicemen wounded in the battle for the territorial integrity of Georgia and in international missions, the Minister and the Chief of the GS covered 5, 5 km distance successfully.
Among the wounded servicemen, Corporal Levan Kvachaini occupied the first place. The owners of the second and third places became Senior Sergeant Paata Jibuti and Corporal Beso Gogoberishvili. Major-General Vakhtang Kapanadze and Minister Tinatin Khidasheli granted the winners cups and certificates.
The sports event aimed at establishing a healthy lifestyle, encouraging veterans and persons with disabilities to engage in similar activities and at popularizing a marathon amongst Georgian youth. In total, 1000 persons took part in the marathon, among them the representatives of the government and legislative organs.
After the marathon race, the wounded serviceman Corporal Temur Dadiani improved the Guinness Record for push-ups. He made 44 push-ups in one minute. The event finished with the concert of the military orchestra of the National Guard.
The marathon race "Let`s Win Together" was conducted by the organization of the Ministry of Defence, the NGO Independent Development Association and City Council of the Saburtalo district.