Joint Press-Conference of Major General Vakhtang Kapanadze and General Jean-Paul Palomeros
Friday, June 12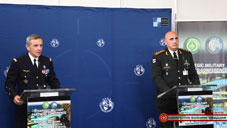 A joint press-conference was held in the exhibition centre "Expo Georgia" within the NATO Strategic Military Partners Conference. Chief of General Staff of the Georgian Armed forces, Major General Vakhtang Kapanadze and Supreme Allied Commander of Transformation, General Jean-Paul Palomeros, outlined the importance of holding the forum in Georgia and emphasized NATO-Georgia cooperation.
"I would like to express our thanks towards the Georgian authorities, President, Minister of Defence Tinatin Khidasheli and the Chief of Defence, Major General Vakhtang Kapanadze for their outstanding hospitality for the Strategic Military Partnership Conference which gathered many NATO and partner countries. We are more than 50 nations representing here. That's already a great success.
"Our presence here for this major annual Strategic Military Partnership Conference is a great demonstration of our will to enhance the privilege of partners of NATO. Georgia is continuously demonstrated this commitment to NATO operations in Kosovo and Afghanistan. I take this opportunity to pay tribute to all the soldiers who have been killed in action in Afghanistan and overall who have been wounded, and pay tribute to the families and to your country for its huge commitment and huge sacrifice for peace and security. And this is why this partnership is close to our heart, because Georgia shows permanent commitment to be engaged in operations for the benefits of peace and security.
"During the Wales Summit last September a lot of important initiatives were decided by the head of states of NATO and it partners. And Georgia was present. All these initiatives aim at improving interoperability between our forces, enhancing the partnership with some nations. Georgia is part of the five nations we have been selected for that. To move further, Georgia was selected to be a member of our defence capability and security related capacity building initiative which is so important, because we fully understand that Georgia needs our full support to improve, to modernize its capabilities, to train its wonderful men and women and to get closer to NATO standards, to NATO doctrines, to NATO training and education programs. That we can make sure that Georgian forces are able to integrate as the best since the first moment of a new approach, new commitment. So with an outstanding, very promising road map in follow us with Georgia, with many of the partners we have so much to share, because we live in a very demanding world, because not a single organization, not a single country can take care of this complexity of this world. Partnership is the only option for the future.
"And I would like to conclude and to stress that we have very pragmatic way forward, we have many pragmatic projects together – common exercise next year, a joint training and evaluation centre, the building of capabilities, as I stressed already. So I am committed to supporting this very demanding road map that we have together – one for friendship that we share with your forces for the benefit of NATO, and for the benefit of Georgia", stated General Jean-Paul Palomeros.
"I'd like to underline such an important occasion that is taking place in Georgia. The General Staff and the Defence Ministry are hosting the NATO Strategic Military Partners Conference for the first time. I'd like express gratitude to CGS and all who planned this Conference to be held in Georgia. This is an annual forum under the aegis of NATO Supreme Allied Transformation Command with the participation of high-ranking officials of NATO member and partner nations' armed forces and experts. The conference is a very important military forum wherein the attendees discuss transformation issues and future challenges, how to face them and plan our future prospects effectively. Each organization needs to transform and modernize. Therefore, the conference promotes transatlantic nations to share opinions on transformation and set up common views on strategic issues."
"The Conference helps Georgia to define our ambition towards NATO – what capabilities and limits we have and what NATO can do for Georgia. This Conference aims to deepen cooperation with non-NATO countries. To hold such Conference in Georgia is a great demonstration of closer relations with NATO. The Alliance appreciates Georgia as a reliable military partner and future member," outlined Chief of General Staff Major General Vakhtang Kapanadze.
After the Generals speeches the press-conference continued in an interactive format. The journalists were mainly interested in Georgia's NATO aspiration prospects and the opening of NATO-Georgia Joint Training and Evaluation Center.
As General Jean-Paul Palomeros said, the decision of Georgia's NATO membership is made on the political level: "This is not for us to make political decisions you understand, but this is very important that we – the military chiefs - push the boundaries of the partnership as much as we can. At the political level our close relationship was demonstrated in Wales and even before, and I am sure it will be demonstrated in Warsaw when the Heads of State will make their decision about the future. But we are here to make sure that we enable the future in terms of military capabilities. When we see the ability of the Georgian Forces to integrate within NATO forces, this is a great sign of Georgia getting closer and closer to military standards and military capabilities. If one day at the political level it is decided that Georgia is on the course of the Membership Action Plan that will make things much easier. This is exactly what happened in the past with many countries. We are here to enable the participation of Georgia in military operations of NATO which is the aim of any partnership with NATO."
The NATO General highlighted Georgia's commitments towards NATO: "Georgia has never failed. Georgia is true to its commitments. So as I said, here are the military chiefs who are doing our best to make sure that the Substantial Package, the Enhanced Partnership, the Interoperability Platform – all of that works as much as possible. Our presence here is a great demonstration and I am very pleased that I made this decision almost two years ago that Georgia will be the hosting nation thanks to the great offer of your country to host the Strategic Military Partnership Conference. This is a great mark of our demonstration to work together."
The Chief of the General Staff talked about the opening of NATO-Georgia Joint Training and Evaluation Centre. As he outlined, Georgia is following all plans of NATO-Georgia Substantial Package. General Jean-Paul Palomeros focused on that Georgia will become a special partner in the region after the opening of JTEC.
The journalists' questions also referred to the regional challenges. Major General Vakhtang Kapanadze outlined that Georgia is an independent country which has independent armed forces and views to enhance its own defence capabilities. General Jean-Paul Palomeros resonated the NATO Secretary General's position: "This question was answered by the Secretary General of NATO recently and I will not come back on this political issue, as a clear statement about where NATO stands regarding the national sovereignty has already been givenand this is true for any nation. National sovereignty is the basis of international law and NATO is committed to fulfil its role in supporting the international rules of laws. The Secretary General has made it clear that it is not acceptable that one single country does not respect the sovereignty of another country."