NATO Strategic Military Partner Conference 2015
Friday, June 12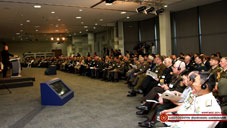 Georgia hosted NATO`s Strategic Military Partner Conference 2015 (SMPC) on June 8-10. High-ranking officials of NATO member and partner nations' armed forces and experts took part in the annual military forum and discussed the transformation issues and future challenges.
Minister of Defence opened the plenary session of the Conference. While delivering the speech, Tinatin Khidasehli focused on the existing security challenges, significance of partnership with NATO and Georgia's membership perspectives. "Though faced with serious security challenges, I am proud that Georgia, today, represents one of the most interoperable, reliable and devoted Partners of NATO; I am proud that difficulties have only made us stronger, more determined to advance defence transformation process, develop capabilities, focus on education and training, and further enhance NATO interoperability; And I am confident, that this will naturally lead to fulfillment of our primary objective - NATO membership. I can only remain hopeful that Warsaw Summit will be rewarding in this regard, which would also serve as a confirmation of Allies' commitment to deliver on their promises", said Minister.
Deputy Secretary-General of the North Atlantic Treaty Organization Alexander Vershbow welcomed the forum participants in a video address. NATO Supreme Allied Commander Transformation (SACT) French Air Forces General Jean-Paul Palomeros and Deputy Commander of NATO's Allied Land Command Lieutenant General Edward Davis made speeches at the conference as well.
After an official opening of the conference, the plenary session went on with panels on different topics. On the second day of the conference, the participants will work in syndicates.
The annual conference is an important forum that enables Chiefs of Defence of NATO and Partner nations to share their perspectives on strategic issues of common interest. The intent of the SMPC is to facilitate the exchange of ideas regarding transformation throughout the Trans-Atlantic Community by creating a common understanding. The conference is co-hosted By NATO Allied Command Transformation (ACT) and the Georgian Armed Forces.