Saudi Royal plans to invest in Georgia
By Ana Robakidze
Friday, June 12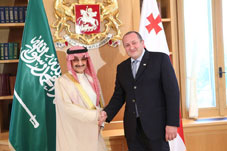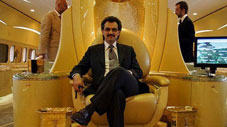 His highness Prince Al-Waleed Bin Talal bin Abdulaziz al Saud of Saudi Arabia visited Tbilisi to discuss possible investments in the country's economy. Member of Saudi royal family and the richest man in the Middle-east arrived in Tbilisi on his private jet on June 10. He held meetings with President Giorgi Margvelashvili and Prime Minister Irakli Gharibashvili, as well as with and Minister of Economy and Sustainable Development Giorgi Kvirikashvili.
It is well known that the Prince is particularly interested in hotel businesses and owns around 300 high class hotels worldwide.
"We are looking forward to investing in Georgia…we promised the Prime Minister that we will be back," the Prince said after his meeting with the PM. He praised Georgia's economic stability and said the country meets the necessary criteria for attracting foreign investments.
According to the PM's press center, the Saudi royal showed a great interest in the tourism potential of Georgia.
"Our meeting with the President was very fruitful and interesting. He briefed me on the history of the country and the current economic situation. Both of my meetings with the President and the PM had a great impression on me and I hope our future relations between the countries and between Georgia and my company will become even stronger in future," the Saudi prince said after the meeting with Margvelashvili.
Minister Kvirikashvili, who met the guest in Tbilisi International Airport, said the visit of the Saudi Royal is very important for the Georgian economy, as the prince who owns Kingdom Holding Company (KHC) one of the world's largest companies, has a very clear interest in investing in Georgia.
The PM and President awarded the prince with a title of the honorable citizen of Georgia. Saudi prince plans to send his delegation to Georgia to start investment projects.