US private investment firm invests $100m in Georgia's energy sector
Monday, June 15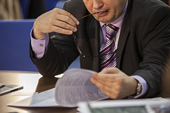 American private investment firm Schulze Global Investments is offering $100 million USD to develop and support Georgia's energy sector.
Schulze Global Investments announced it will use the invested money to launch the Caucasus Clean Energy Fund I (CCEF), which aimed to make equity available in the country's energy sector and help unlock the potential of Georgia's small and medium-sized hydro power plants.
"Georgia has tremendous hydro power potential and, with the right strategy, could become a clean energy hub for the entire Caucasus region. Here in Georgia we see an opportunity to achieve impact in virtually all of these areas," said the company's founder and CEO Gabriel Schulze.
The new private equity fund was introduced today at a special meeting in Tbilisi.
Schulze Global said CCEF will make equity investments into building the small and medium-sized hydro power plants in the range of 10-20 MW in Georgia.
The Fund will obtain finances from two major institutional investors; Global Energy Efficiency and Renewable Energy Fund (GEEREF) and the Development Bank of Austria (OeEB). These institutional investors will invest $13 million and $7 million respectively.
"Schulze Global's approach seeks to achieve high financial returns while at the same time making sure that our investments are having a tangible positive impact," said Schulze.
"When measuring that impact, we look at various factors: improving the governance of the companies in which we are investing; creating local employment opportunities; having a positive social and environmental impact; and serving as a strategic bridge between the United States and the frontier markets in which we operate," he added.
Schulze Global is an American private investment firm that focuses on the world's most dynamic frontier markets. Schulze Global currently manages several hundred million dollars of investments across various markets in Asia, Latin America, and Africa and works in partnership with some of the world's most prestigious institutional investors.
(Agenda.ge)