Instead of abolishing the majoritarian system it is time to appoint a "Minister of Mountains"
By Messenger Staff
Monday, June 15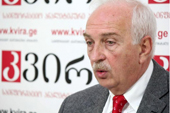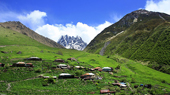 Lawmakers representing the Georgian highlands in Parliament are offering the government to establish a new ministry to support and promote the development of the highlands. Instead, majoritarian MPs promise to support amendments in the election code which will abolish majoritarian election system in Georgia.
MPs voiced their initiative at the Georgian Dream Coalition meeting on June 5, which was accepted as a joke by many lawmakers.
MP Levan Berdzenshivili believed setting up a special institution for mountainous regions of Georgia is an idea worth to be seriously considered.
"Nearly half of the country is made up of highlands and the northern state border is located along mountains which are a very important factor," said the head of the financial committee, Tamaz Mechiauri and added that there should be a state institution dealing with various problems existing in the Georgian mountains.
Georgia has had many issues with highlands, and ancient villages have nearly emptied, due to unbearable living conditions; people have moved to bigger cities in the central regions. The country is in urgent need of new infrastructure project to develop Georgian highlands.
Due to a lack of supporters, majoritarian MPs will have to provide the parliament with several important reasons to prove the necessity of the new ministry. "We have to discuss what the major problems in the Georgian highlands are and whether these issues can be solved without a new minister," MP Tamar Kordzaia said, commenting on the initiative.
According to the cabinet there will be no new member in the near future. Deputy Prime Minister Kakha Kaladze said long and intensive consultations will be necessary before deciding on establishing a new ministry.