12 dead and several missing after a heavy flood in Tbilisi
By Ana Robakidze
Monday, June 15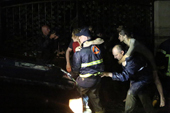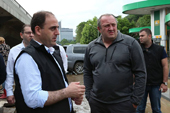 Heavy flooding in Tbilisi left twelve dead and many others missing. The heavy rain started before midnight on Saturday, June 13 and it completely flooded the new highway linking the Vake and Saburtalo districts. Water poured into what is normally a small waterway that runs through both districts and the swollen waterway flooded the major highway in Tbilisi, sweeping away cars. Rescue workers managed to save many people from flooded cars and building, and many had to be carried on boats due to the high level of water.
Officials are looking for two 22 and 25 year old sisters, who disappeared around 1 pm on June 14. The Zarandia sisters and their friend were in a taxi moving from the central Liberty square towards Saburtalo district when their family lost contact with them. It was impossible to reach the girls as both had their phones off.
The country's Secretary of State Security and the Crisis Management council, Mindia Janelidze, warned residents not to use their cars on Sunday, as many main roads will remain closed.
Around 40 families are left homeless as water washed away their houses, the majority of them was located in the Vere settlement along the Vere river.
Tbilisi City Hall asked the citizens to stay in due to threats from wild animals, which had escaped as the local zoo was flooding. Lions, tigers, bears, wolves and a crocodile, around 30 of them in total, were out in the city. Officials are still searching for the animals, though some of them were put to sleep using tranquilizers, while a lion, a tiger and several wolves were shot dead. The exact number of missing animals remains unclear.
The President of Georgia, the Prime Minister, the City Mayor of Tbilisi and other high rank officials were out all night on Sunday monitoring rescue operations and personally helping the police and search and rescue teams. Citizens have gathered to form volunteer groups and to help repair the damage and aid victims of the flood.
City Hall has already estimated the damage cost to be around 10 million USD, but the number is expected to increase.