Georgia's exports worth $884m in January-May 2015
Tuesday, June 16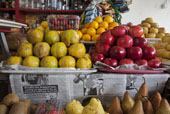 The value of Georgia's exports and imports reached almost $4 billion USD in the first five months of 2015, according to Geostat, the National Statistics Office of Georiga.
Preliminary data released in the beginning of June revealed Georgia's External Merchandise Trade (excluding non-organised trade) amounted to $3.9 billion between January and May 2015. This was a 13 percent decrease on the same period of 2014, stated Geostat.
Between January-May 2015, the value of exports decreased by 25 percent, reaching $884 million, while the value of imports dropped by nine percent and amounted to $3.03 billion in comparison to respective 2014 data.
The trade deficit equalled $2.15 billion and its share in trade turnover constituted 55 percent.
Detailed data on External Merchandise Trade of Georgia will be published by Geostat on June 22, 2015.
(Agenda.ge)