Georgian Civil Aviation Agency Sues "Rustavi2" TV
Tuesday, June 16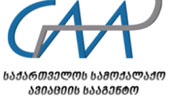 Georgian Civil Aviation Agency (GCAA) plans to file a lawsuit against "Rustavi2" TV. An announcement was published on official website of the Agency today.
"The story broadcasted by Rustavi2 was disinformation aimed to discredit Georgian aviation authorities. ICAO does not produce the so-called black list, therefore Georgia couldn't be placed in such list. Moreover, there is no mechanism to exclude Georgia from the ICAO. GCAA had serious problems and flaws in 2004-2010 because of wrong policy. According of the Audit Service of ICAO the transport reform is being implemented successfully.
According to ICAO audit report for 2013, the civil aviation has made significant progress, however some shortcomings have also been found.
In particular, ICAO has found that process of issuing the certificates for air companies in 2007-2013 needs to be revised. In order to eliminate the mentioned shortcoming, the agency has declared the moratorium on the registration of new companies from September 2014 to May of 2015, which in some circles has been described as disincentives for business.
Civil Aviation Agency says it will file a complaint to restore its violated rights, "as the public was misled by "Rustavi 2" TV."
(Frontnews)