Prosecutor's office to investigate reasons behind the deadly flood
By Ana Robakidze
Thursday, June 18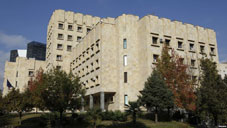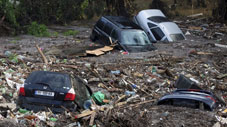 Head of the Italian Geological Service Claudio Margottini will study the reasons behind the deadly flood that hit Tbilisi on June 13.
Ministry of Culture and Monument Protection Minister Mikheil Giorgadze announced that the Italian expert will start work immediately and will be heavily involved in the investigation.
"We asked him to consult with City Hall and specialists from the Ministry of Environmental Protection. Together they will explore the Vere Gorge and then visit Betania to check the actual area of the landslide. Margottini will give us recommendations and most probably he will be fully involved in the investigation and in preparing the final report," Giorgadze said.
According to the expert, Tbilisi has witnessed a very serious problem and it will not be easy to deal with it.
"These processes and tragic events brought together several natural disasters in a very unusual phenomenon. On the one hand, there was a very large flow of water, and on the other hand, there was a landslide, and together they destroyed the area. The situation is severe and unusual. We will do our best to develop recommendations to prevent a similar disaster in the future," Margottini said.
A team of Israeli veterinarians also arrived in the Georgia to help zoo officials with the reconstruction work and rehabilitation of animals.
"The entire infrastructure in the lowest part of the zoo was also destroyed. It is quite a catastrophic situation for them. All the animals in the lowest level of the zoo drowned or escaped. " Dr. Igal Horowitz, head veterinarian of the Ramat Gan Safari and the director of the Israeli Wildlife Hospital, told The Jerusalem Post.
After the deadly flood, Georgians have many questions and are looking into the possible mistakes in city urbanization that might have caused the disaster. Therefore, the Prosecutor's Office has officially launched an investigation. The office looks into alleged violation of safety regulations during construction work.