Authorities continue to repair flood damage
By Ana Robakidze
Monday, June 22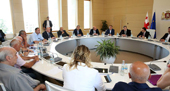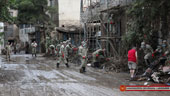 The Georgian government, in cooperation with foreign experts, has started repair works on the areas damaged by the extreme flooding of June 14th. Urban architects, engineers, geologists and experts from various other fields have all gathered in the Georgian capital to study the causes of the flood and set a plan on how to avoid similar disasters in future. The experts will work as part of the newly established interagency state commission.
Prime Minister Irakli Ghariabshvili said at the first sitting of the commission that modern technology will be used to minimize future risks. First of all, a new alarm system will be installed along the Vere river, and flood barriers will also be constructed, which will cost the government around 3 million GEL.
Hundreds of volunteers who helped to clean the flooded parts of the city, have been asked to stay home due to safety issues, and due to the possibility of an epidemic breakout of various diseases. The authorities said heavy vehicles are now working to clean the city from mud.
While various units of Georgian Armed Forces carry out intensive recovery works, some citizens have wondered why such extensive civil volunteering was necessary when the authorities could have used the military reserve to partake in rehabilitation activities in the flood-affected area.
In 2006, when the Georgian Parliament adopted new legislation regarding the Military Reserve Service, the National Guard started to train reservists. According to the law, the reserve military force was created to be involved in not only military activities, but in any other disaster sceanrio. The war of August 2008 made it clear that reservists did not adapt well in combat situations, and a disparity between the abilities of regular and reserve soldiers became apparent; hence, after the war, the training of reservists and their use during wartime became especially relevant. However, it seems that the system has many flaws.
While the majority of other countries mobilize their reservists in cases of natural disasters, Georgian authorities have never previously used reserve forces in recovery works. Georgian taxpayers spent a significant amount of money on the establishment of the military reserve system, but the model has not succeeded so far due to various reasons, including the political will.