World financial experts in Tbilisi for BSTDB Annual Meeting
Monday, June 22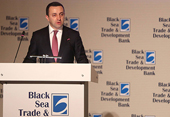 Georgia is hosting dozens of global financial experts at the Annual Meeting of an international financial institution that has supported 24 local projects worth more than ˆ123 million (about 313 million GEL).
From today until Sunday, Georgia's capital Tbilisi is hosting policy makers, business leaders, and representatives of development financial institutions from 11 countries at the 17th annual Black Sea Trade and Development Bank (BSTDB) Annual Meeting of the Board of Governors.
On day one of the event participants took part in the Regional Business Forum at the Rustaveli National Theatre in central Tbilisi. The official opening was followed by a forum titled 'Development of Entrepreneurship and Access to Capital to the Black Sea region'.
BSTDB said the three-day event gave international financial experts the chance to exchange views on the development of entrepreneurship and access to capital in the Black Sea region. The event also offered "excellent opportunities for Georgian and regional businessmen and investors to network and discuss business proposals with BSTDB and participating financial institutions".
The Business Forum was organised by the Bank in cooperation with the Government of Georgia and the local business community.
On June 20, the event moved to Tbilisi Marriott Hotel in Freedom Square where the BSTDB Board of Directors meeting was held.
The on Sunday the Hotel hosted the 17th Annual Meeting of BSTDB Chief Legal Officers. The meeting was chaired by the president of the National Bank of Georgia (NBG) Giorgi Kadagidze, who is the BSTDB Chief Legal Officer in Georgia.
BSTDB has a large presence in Georgia. As of May 31, 2015, the Bank was involved in 24 projects worth more than ˆ123 million (about 313 million GEL). Currently 11 projects are underway, which the Bank invested a total sum of ˆ65 million (about 165 million GEL).
(Agenda.ge)