President Margvelashvili returns form Bratislava
By Ana Robakidze
Tuesday, June 23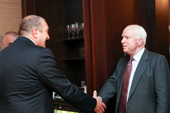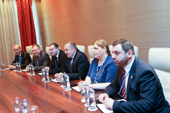 President of Georgia Giorgi Margvelashvili, who wrapped up his visit in Bratislava on June 21, said it is clear that the Eastern European countries are well aware of the role of Georgia in the European and Euro-Atlantic security. Speaking to media, the President said his visit was very fruitful and he managed to meet leaders of NATO member states and discuss Georgia's perspectives.
"We had the opportunity to meet with the leaders of NATO's founding countries such as the United Kingdom's Prime Minister, as well as the United States Senator's Delegation, to discuss the issue of Georgian security and the necessity of the activated dialogue on this issue. We also actively worked on and discussed with the leaders of NATO's relatively new member countries." Margvelashvili said.
Before leaving Bratislava on June 21, where he attended the Bratislava Global Security Forum (GLOBSEC), President Margvelashvili held meetings with U.S Senator John McCain and Prime Minister of Montenegro Milo Dukanovic.
According to the President's press office the parties discussed Georgian-American relationship and emphasized the importance the strategic partnership. Senator McCain focused on the successful cooperation within the Georgia-US Charter and discussed the prospect of strengthening bilateral relations.
Senator McCain praised Georgia for its contribution to global security and said the U.S appreciates Georgia's contribution to international missions. The parties also discussed the process of NATO's 'substantial package'. McCain expressed his hope that the package will help Georgia to integrate with NATO.
Speaking to PM Dukanovic, President Margvelashvili said Georgia welcomes Montenegro's aspiration to join NATO. According to Margvelashvili, Montenegro obtained a great experience in the process of Euro-Atlantic integration and finally became NATO's aspirant and an EU candidate country.
President Margvelashvili personally invited Senator McCain to Georgia. The Senator said he plans to visit the country in the near future.