Ian Kelly to become next U.S Ambassador to Georgia
By Ana Robakidze
Friday, June 26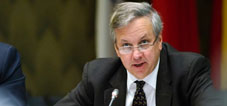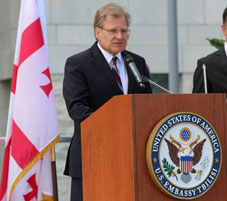 The U.S. Senate confirmed Ian Kelly, American statesman and senior foreign officer as the next U.S. Ambassador to Georgia. According to the U.S embassy Kelly and his wife Francesca plan to move to Georgia in September.
Richard Norland, who currently occupies the ambassador's position in Georgia, has started preparations for his departure from this summer.
"Wherever we are, Mary and I will always hold Georgia and Georgians close to our hearts," Ambassador Norland said.
U.S President Barak Obama nominated Kelly in March 2015.
Kelly was a spokesperson in the State Departmentís Bureau of Public Affairs in 2009-2010 and served as U.S. representative to OSCE in Vienna in 2010-2013. He has also worked at the U.S.ís embassies in Italy and Turkey.
Ambassador Norland who has been one of the strongest supporters of Georgia and its foreign policy was nominated by President Obama to serve as the next Ambassador to Georgia and was confirmed by the U.S. Senate on March 29, 2012. Before arriving in Georgia, Norland had served as he served for two years as Deputy Chief of Mission at the American Embassy in Kabul, Afghanistan and as a Deputy Chief of Mission in Riga, Latvia, and served in Mazar-e-Sharif, Afghanistan as a diplomat with the U.S. Army Civil Affairs team promoting political and economic reconstruction. He served as U.S. Ambassador to Uzbekistan from September 2007 to July 2010.
Norland had always been actively involved in political and social life of Georgia and had been tightly cooperation with the civil society of the country.