U.S state departments issues report on human rights protection in Georgia
By Ana Robakidze
Monday, June 29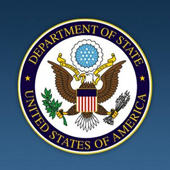 The U.S. Department of State says the most important human rights problems reported in 2014 in Georgia were societal/interpersonal violence, including domestic violence and politically motivated violence, increased societal intolerance of members of minority groups, as reflected in hate speech, interference with religious worship, and intimidation that prevented freedom of assembly and persistent shortcomings in the legal system that led to incomplete investigations, premature charging of suspects, and inappropriate use of pretrial detention.
According to the country report prepared by the Bureau of Democracy, Human Rights and Labor of the U.S State Department, abuse by law enforcement officials, substandard prison conditions, allegations of political influence in the administration of justice, as well as disability rights and trafficking in persons remained problems.
While not all figures and other data provided in the report include the occupied regions of South Ossetia and Abkhazia, the State Department still speaks about the grave situation in terms of human rights protection in occupied regions of Georgia.
"De facto authorities continued to restrict the rights, primarily of ethnic Georgians, to vote or otherwise participate in the political process, own property, register businesses, and travel. The de facto South Ossetian authorities refused to permit most ethnic Georgians driven out during and after the 2008 war to return to South Ossetia. With the exception of the International Committee of the Red Cross (ICRC), the de facto authorities did not allow international organizations regular access to South Ossetia to provide humanitarian assistance. Russian "borderization" of the administrative boundary lines of the occupied territories of Georgia intensified during the year, separating Georgian residents from their communities and undermining their livelihoods," the report says.
The State department is concerned over the wide spread domestic violence in Georgia and the lack of effectiveness of preventive measures.
"In most of the domestic violence cases addressed to the public defender, police limited their response to issuing verbal warnings and initiating preventive supervision, which did not provide actual protection from recurrent abuse."
The report was prepared based on various reports by the Georgian public defender as well as national and international human rights organizations working in Georgia.