Investors wanted for Georgia's Gonio project
Monday,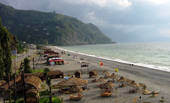 Georgia is calling for international investors for a project to develop a 315 hectare former military range in Georgia's western town of Gonio, south of Batumi.
The project is ready and soon the Georgian National Investment Agency will present the Gonio development project to the Government for approval, before getting underway.
But before this can happen investors are needed. The Agency is now searching for investors who will commit to the Gonio development project.
To do this the Agency ordered global commercial real estate advisory company Colliers International to conduct a study about Gonio's investment potential.
We needed to know the international demand and what can be sold easily. We have been working with Colliers International for seven months. This company designed the project and concept for developing the Gonio area. We are now giving this project to the Government and if they approve it, the project will be implemented," said head of the Georgian National Investment Agency Giorgi Pertaia.
Several non-governmental organisations were involved in creating the Gonio development project because of its "complicated location", he said.
"There is a danger that migrating birds could create problems. The project does not interfere in the area, which is close to Cholokhi ravine. There will be no developments, just a recreation zone for the local population. This project will not damage the environment or the nature of Gonio," Pertaia promised.
(Agenda.ge)