Georgia's Economy Ministry building sells for $9.5 million USD
Monday, June 29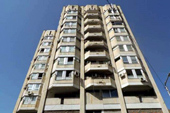 The building of the Georgia's Ministry of Economy and Sustainable Development has been sold for just under $9.5 million USD.
Online bidding for the central city building on Chanturia St in Tbilisi officially closed at 5pm on June 26.
It has been revealed the building was purchased for $9,450,000 USD (21,766,185 GEL) however the buyer has not been revealed.
Earlier Georgia's Minister of Economy and Sustainable Development Giorgi Kvirikashvili said the notion to privatise state assets was a way to get more money into the economy to stop the national currency depreciating.
The total area of the Economy Ministry building is 11,271 sqm and it is located on a 4,200 sqm section of land. The building also has a separate parking facility.
The new owner of the building will be obliged to transform the current facility into a 100-room hotel in a space of 36 months, from January 1, 2016.
The Economy Ministry is currently operating from the Chanturia St building. It is unclear where the Ministry will be located to once the new owner takes over possession of the building.
(Agenda.ge)