Free Democrats believe Alasania is a victim of political revenge
By Ana Robakidze
Tuesday, June 30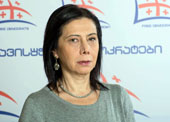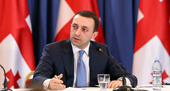 Nino Goguadze, one of the leaders of Free Democrats' party, claims that a well-planned political campaign against former Defense Minister Ikakli Alasania was launched in January 2013 and remains ongoing.
"This process began quite some time ago, in January 2013. I am certain about it as I had conversations with high-ranking officials, and it became clear for me that a ruthless campaign would be launched against Alasania and that a political verdict was delivered against him in January 2013," Goguadze told the IPN agency. She also spoke about the so-called cable case, a high profile investigation which was launched by the prosecutor's office in the Defence Ministry and resulted in the detention of five officials.
"When it was revealed that the Prosecutor's Office had started investigating the Ministry of Defence, Minister Alasania asked the Prime Minister (Irakli Gharibashvili) to try and clarify things in order not to harm the Defence Ministry. In the beginning, the PM agreed to meet Alasania, though the meeting was postponed several times and at the end it never happened," Goguadze said, adding that the prosecutor's office investigating the Defence ministry was acting solely to persecute Alsania.
Prime Minister Irakli Gharibashvili denies all accusations and states that no political campaign has ever been planned against Alasania.
"When our coalition came to power, Alasania took the post of the Defence Minister and left his position as the party (Free Democrats) chairman, which was the correct decision. He said he was only the Defense Minister and not a political leader. However, when he learned that an investigation was launched by the Prosecutor's Office, he came to me and said he was going to return to the party and chair it again. I found his decision unacceptable. In a few weeks, he came to me again and asked for my help in organizing a meeting with the Chief Prosecutor to "settle things,"" PM Gharibashvili said. According to the PM he refused to help Alsania and told him he had no plans to interfere in the investigation.
Gharibashvili said Alasania lost his position of a Defence Minister because he started to act like a politician and not a minister.