World Bank Regional Director in the South Caucasus Awarded with the «Golden Fleece" Order
Tuesday, June 30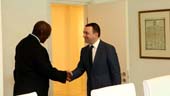 Georgian Prime Minister Irakli Garibashvili awarded the World Bank's Regional Director in the South Caucasus Henry Kerali with the order of "Golden Fleece," for his outstanding service and close cooperation while working in Georgia.
Prime Minister Garibashvili hosted a farewell meeting with Henry Kerali, whose mission in Georgia is now complete. During the meeting, the Prime Minister applauded Kerali's efforts, noting that through his direct work, the World Bank has implemented several significant development projects across Georgia to improve economic productivity and the people's welfare. Ongoing projects include road infrastructure, energy sector projects, regional development and agricultural support.
The Prime Minister also highlighted the World Bank's efforts to support one of Georgia's key infrastructure projects - the construction and rehabilitation of the East-West Highway, which aims to connect Tbilisi to other regions within Eastern Georgia, and to ports, recreational and tourist centers across Western Georgia.
Deputy Prime Minister and Minister of Economy and Sustainable Development Giorgi Kvirikashvili and Finance Minister Nodar Khaduri also attended the meeting.
(Government.gov.ge)